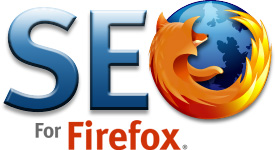 Aaron Wall announced in his "Above the Fold" newsletter yesterday the launch of a new SEO tool for Firefox. He also posted about SEO for Firefox on his SEOBook blog, generating a TON of feedback.
Says Aaron, "This tool was designed to add more data to Google and Yahoo! to make it easier to evaluate the value and competitive nature of a market."
The tool allows you to perform various SEO research functions as you search Google or Yahoo – which is very different than the toolbar and right click options offered by tools like SEOpen. With SEO for Firefox, after each search result you'll see a variety of information for each URL ranging from age of domain name to .edu & .gov links to del.ico.us and dmoz info. The SEO for Firefox tool can be toggled on or off universally, plus there are settings for each data point.