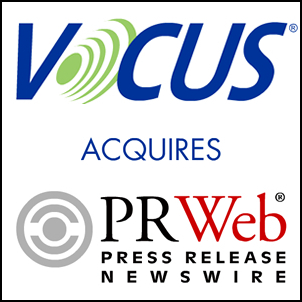 A big day for PRWeb! It's been difficult keeping this under wraps, but Vocus, a public relations software company, has acquired press release distribution service, PRWeb in a deal worth $28 million.
"The internet has led to a dramatic increase in the number and types of media outlets and other website destinations from which consumers and journalists get their news," said Rick Rudman, President and CEO of Vocus, Inc. '"PRWeb has fully developed the technologies, features and pricing model to enable organizations of all sizes to maximize their online visibility and to exploit the potential of this new communication channel."
I will be interviewing David McInnis and possibly Rick Rudman and will post when complete.