It's one thing to use social channels to promote an idea and quite another to put those ideas into action in a successful way. Now more than ever, we need trusted sources of insight and leadership to guide the future of digital business.
Michael Brito is a great example of someone who has played a pivotal part in this evolution of knowledge. Having worked with Sony, 8×8, HP, Yahoo!, Intel and now Senior Vice President, Social Business Strategy at Edelman as well as Adjunct Professor of Strategic Social Media at UC Berkley and Author of Smart Business, Social Business, Michael Brito has a tremendous business pedigree for connecting the dots and seeing the horizon for what's next in the digital age.
His next book, Your Brand: The Next Media Company will be coming out soon and after seeing a preview, I think this will be one of those must reads for 2014. As companies move forward through content maturity, they'll need to achieve mastery of the characteristics common to successful media companies. This guest post shares four of those characteristics.
I have been a long time reader of TopRank's Online Marketing Blog, so I consider this to be an utmost privilege to be contributing. Lee so graciously agreed to let me write about my upcoming book, Your Brand: The Next Media Company, which is currently available for preorder but will be released in October 2013.
Whether you work for a large brand, small business or just a consultant, you need start thinking like a media company.  And the answer is right in plain sight:
There is a content and media surplus in the market place and consumers have an attention deficit.
Consumer's lives' are dynamic and unpredictable, making it impossible for any brand to reach them consistently.
All consumers are influential, despite their Klout scores and are aiding their peers down the purchase funnel.
These factors alone should get you to at least start thinking about making the transition into a media company.  But the question you may have is, "what exactly is a media company?"
At a very high level, media companies are content machines. But more importantly, they have five characteristics that you should adopt when thinking overall about content marketing or content strategy.
Storytelling: Media companies tell stories. Conde' Nast has a diverse narrative told through their media properties from fashion and travel to sports and weddings. Traditional news organizations also tell stories, although their narrative is current or breaking news. Some news outlets have tried to up-level their narrative by using anecdotes like "Fair & Balanced" to differentiate themselves from their competition.
Content: Media companies are content machines with an "always on" mentality. It doesn't matter what time a day it is or what the hour, media companies distribute content all the time. For example, the New York Times publishes 1,500+ articles per day (including those from AP, Reuters, and so on) and 200 to 400 blog posts.
Relevance: Media companies provide relevant content all the time to someone, somewhere. They aren't in the business of providing content that's a few days or weeks old, unless they are holding off on a story to get more detailed information. The content is recent and, in many cases, real-time.
Ubiquity: Media companies are everywhere. They dominate the search engine results and their content is shared daily across social media channels. They produce videos and advertise, and even their journalists have started building their own personal brands, which also feed the content engine day in and day out.
Agility: Media companies move quickly. They have subject matter experts and contributing writers who are prepared to write about any topic at any time. They also employ creative teams that can produce visual content at a moment's notice. They aren't held captive by approvals from a brand team or lawyers. They are content organizations and move quickly. They have workflows that facilitate the entire content supply chain (ideation, creation, approval, distribution and integration.)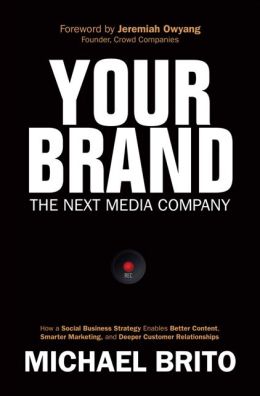 Now if I explained the rest of the book, you wouldn't need to go and buy it. What I can tell you though is that I do provide a framework that will help facilitate processes, workflows and strategic approaches, which will help you to think, act and operate like a media company. Along the way, I also provide technology reviews of content platforms like Newscred, Contently, Compendium, Outbrain and real-time monitoring dashboards like Social Flow and the Dachis Group Real-time Marketing Platform that will help facilitate this transition.
BIO: Michael Brito is an SVP at Edelman Digital and the author of, Your Brand: The Next Media Company, which is now available for preorder on Amazon. You can follow him on Twitter or read his social strategy blog.